Excavator Auger Drill
ANTENG excavator auger drill is an attachment for excavator. It has the function of digging holes in various soil condition, applied in planting trees, pile driving assist, thermal energy system construction and so on.
FEATURES
SPECIFICATION
Video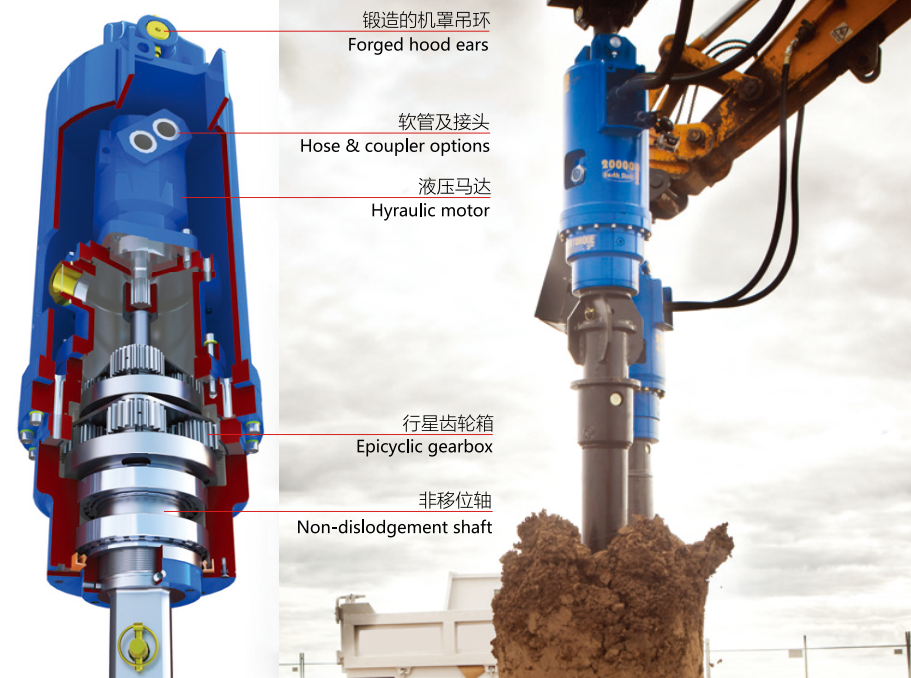 FEATURES:
1.Manufactured from high grade materials and precision engineered components.

2.Unique design of single piece drive shaft.

3.Suit most of the excavator brands around the world.

4.Most efficient ratio between qauntity of earth removed and speed of operation.
| | | | | | | | | | |
| --- | --- | --- | --- | --- | --- | --- | --- | --- | --- |
| Model | Unit | X2000 | 2500 | 3000 | 3500 | 4500 | 5500 | 7000 | 8000 |
| Applicable Excavator | ton | 1~1.5 | 1.5~3 | 2~4 | 2.5~4.5 | 4~5 | 4.5~6 | 5~7 | 6~8 |
| Max Torque range | nm | 2190 | 2452 | 2900 | 3643 | 4535 | 5477 | 6931 | 8152 |
| Oil pressure range | bar | 70-240 | 70-240 | 80-240 | 80-240 | 80-240 | 80-260 | 80-260 | 80-240 |
| Oil flow range | l/m | 25-57 | 27-65 | 27-75 | 40-85 | 50-95 | 40-115 | 60-135 | 70-150 |
| Speed | rpm | 43-99 | 36-87 | 36-100 | 42-90 | 43-81 | 30-87 | 36-81 | 33-70 |
| Hose/Quick coupling | bsp | 1/2" | 1/2" | 1/2" | 1/2" | 1/2" | 1/2" | 1/2" | 1/2" |
| Output shaft Std | mm | 65 | 65 | 65 | 65 | 65 | 75 | 75 | 75 |
| Unit weight | kg | 47.3 | 47.53 | 70.26 | 70.72 | 71.35 | 108 | 112 | 116 |
| Unit height | mm | 595 | 595 | 700 | 700 | 700 | 780 | 780 | 780 |
| Unit diameter | mm | 200 | 200 | 238 | 238 | 238 | 269 | 269 | 269 |
| Auger series | | S4 | S4 | S4 | S4 | S4 | S5 | S5 | S5 |
| Auger length | m | 1.2 | 1.2 | 1.2 | 1.2 | 1.2 | 1.5 | 1.5 | 1.5 |
| Auger dia | mm | 100-450 | 100-500 | 100-600 | 100-750 | 100-900 | 150-750 | 150-900 | 150-900 |
| | | | | | | | | |
| --- | --- | --- | --- | --- | --- | --- | --- | --- |
| Model | Unit | 10000 | 15000 | 20000 | 25000 | 35000 | 42000 | 50000 |
| Applicable Excavator | ton | 8~12 | 10~15 | 13~20 | 15~22 | 20~45 | 20~45 | 21~45 |
| Max Torque range | nm | 10662 | 15071 | 19564 | 24755 | 35323 | 42387 | 47515 |
| Oil pressure range | bar | 80-260 | 80-240 | 160-240 | 160-240 | 180-310 | 180-310 | 160-320 |
| Oil flow range | l/m | 70-150 | 80-170 | 80-170 | 80-170 | 80-225 | 80-225 | 100-280 |
| Hose/Quick coupling | bsp | 3/4" | 1" | 1" | 1" | | | |
| Output shaft Std | mm | 75 | 75 | 75 | 75 | | | |
| Unit weight | kg | 162 | 173 | 268 | 269 | 442 | 442 | 472 |
| Unit height | mm | 883 | 930 | 1130 | 1130 | 1411 | 1411 | 1411 |
| Unit diameter | mm | 290 | 290 | 345 | 345 | 406 | 406 | 406 |
| Auger series | | S6 | S6 | S6 | S6 | PA | PA | PA |
| Auger length | m | 1.75 | 1.75 | 1.75 | 1.75 | 2.3 | 2.3 | 2.3 |
| Auger dia | mm | 150-900 | 150-1200 | 150-1200 | 150-1200 | 300-1500 | 300-1800 | 300-2400 |
| | | | | | |
| --- | --- | --- | --- | --- | --- |
| Auger series | Unit | S4 | S5 | S6 | PA |
| Auger length | m | 1.2 | 1.5 | 1.75 | 2.3 |
| Auger dia | mm | 100-900 | 150-900 | 150-1200 | 300-1500 |
Feedback form contact with us